ASN Wikibase Occurrence # 143820
Last updated: 16 November 2020
This information is added by users of ASN. Neither ASN nor the Flight Safety Foundation are responsible for the completeness or correctness of this information. If you feel this information is incomplete or incorrect, you can
submit corrected information
.
| | |
| --- | --- |
| Date: | 19-SEP-1970 |
| Time: | |
| Type: | English Electric Lightning T4 |
| Owner/operator: | 226 Operational Conversion Unit Royal Air Force (226 OCU RAF) |
| Registration: | XM990 |
| C/n / msn: | 95078 |
| Fatalities: | Fatalities: 0 / Occupants: 2 |
| Other fatalities: | 0 |
| Aircraft damage: | Written off (damaged beyond repair) |
| Location: | Little Plumstead, near South Walsham, Norfolk, England. - United Kingdom |
| Phase: | En route |
| Nature: | Training |
| Departure airport: | RAF Coltishall, Norfolk (EGYC) |
| Destination airport: | RAF Coltishall, Norfolk (EGYC) |
XM990; C/N 95078 ff R.P. Beamont 21-9-61 Warton. To 226 OCU Middleton St George, 20-9-62. Crashed 19-9-70. Entered uncontrolled roll at East Plumstead (near Coltishall).

Following from Brian Fuller one of the pilots involved:

"To give you a broader picture of what had happened, we had taken part in a Diamond 16 flypast over Coltishall as part of the Battle of Britain Air show. For the landing the formation split into 4 sections of 4 aircraft and we were in the last section to land. Unfortunately, the last aircraft of the previous section burst a tyre on landing so our section was diverted to Wattisham. We re-fuelled there and put in new brake-chutes and then waited for the return to Coltishall once the rest of the display had finished.

It was after the "break" into the circuit on the return from Wattisham that the problem arose. The other pilot, Flt Lt John Sims found that he needed more and more right aileron to hold the wings level going downwind. Eventually it was obvious that we would have to depart the aircraft so he let the aircraft roll under and got me to eject as it passed the upright position. He then let it roll again and ejected as it once more passed the upright position.

However, as soon as he let go of the control column the rate of roll increased. Also the canopy had gone when I went out so he missed the top ejection seat handle when he initially went for it. By the time he managed to pull it the aircraft had rolled considerably to the left. Thankfully he got out safely although he did suffer a minor fracture to one of his vertebrae which necessitated some time at Headley Court."

The aircraft crashed into a wood bordering the A1140 Norwich to South Walsham road very close to the village of Little Plumstead. Part of the tail unit was hurled across the road, inches in front of a car which stopped with debris and soil covering the bonnet. There was no fuel fire, but parts of the wreckage had caught fire. Total Hours flown on airframe 1,282 hours.
1.
http://web.archive.org/web/20160316033156/[LINK
NOT WORKING ANYMORE:http://www.lightning.org.uk/histp11t4.htm]l
2.
http://web.archive.org/web/20170421194422/http://www.ejection-history.org.uk:80/PROJECT/YEAR_Pages/1970.htm#sep
3.
http://www.ejectorseats.co.uk/xm990.htm
4.
http://www.ukserials.com/losses-1970.htm
5.
http://web.archive.org/web/20160406231716/http://www.lightning.org.uk/apr03sotm.html
6.
https://en.wikipedia.org/wiki/List_of_accidents_and_incidents_involving_the_English_Electric_Lightning#1970s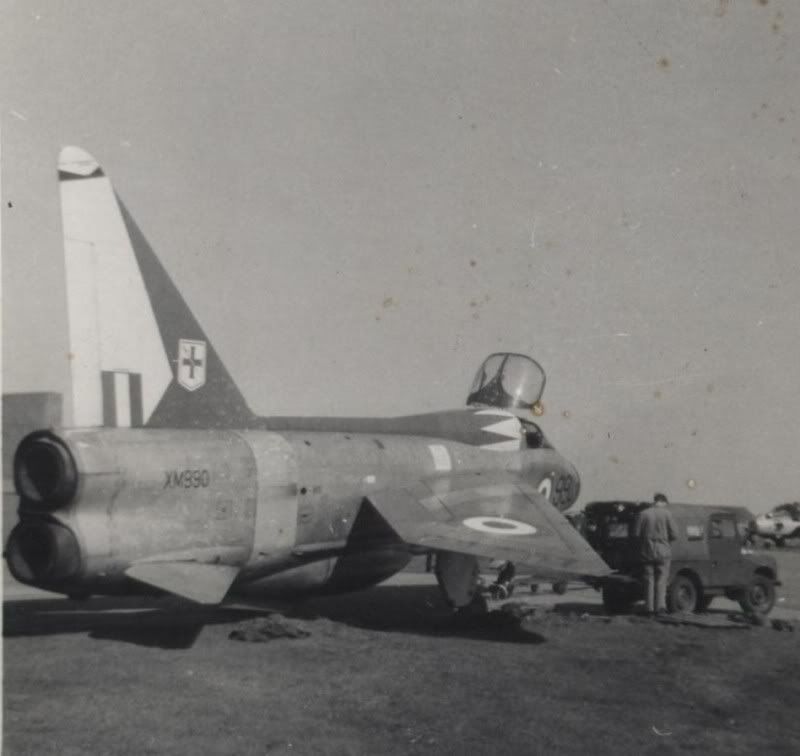 | Date/time | Contributor | Updates |
| --- | --- | --- |
| 17-Feb-2012 18:16 | Dr. John Smith | Added |
| 09-Jun-2013 01:33 | Dr. John Smith | Updated [Source, Embed code, Narrative] |
| 17-Sep-2014 18:17 | Anon. | Updated [Narrative] |
| 04-Aug-2015 13:29 | Dr. John Smith | Updated [Location, Departure airport, Destination airport, Narrative] |
| 04-Dec-2018 09:47 | Nepa | Updated [Operator, Location, Nature, Operator] |